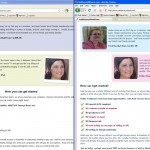 Not sure if this is a scam, but I received this spam and found more than one site with the same testimonials. See my picture (click on them to enlarge).
I did a little research and found that both sites are owned by Sheerion LLP in Nottingham, UK. I found a cash survey review site that pushed visitors to these sites and also targeted the keyword 123 cash surveys scam and then talked about how good it works – a whois lookup had the owner's information hidden.
From reading their terms of service, it appears there is a special section that you have to pay for, so I'm guessing there is a membership fee. And based on their spam, earning $3,000 for 45 minutes of work sounds too good to be true to me. You can decide for yourself and I've included the email below. If you have tried this, please, let us know how it went!
——————
Hello Fellow Internet Entrepreneur,,
Take a look and read some of the info's that I am presenting to you.
Online Home Workers Needed Worldwide. No matter where you live, USA, UK, Canada, Australia, Europe etc, there are companies who will pay for your opinion.
Would you like to earn an extra $1000 to $3000 per month? for just 45 minutes work? You could quit your job and make double the money at home working for yourself.
Companies are currently looking for Online Survey workers worldwide. Rates of pay are excellent from $1000 a day and up. We have over 8000 current members earning extra money from their own home.
If you want to earn from home.. You must ACT in Order to Achieve Success.
Please keep reading:
You don't need any prior experience to work, access to the internet is all that is needed.
You can simply follow our step by step guide and work whenever you want for how long you want.
You will be in control of your own working hours, the more you work the more you earn.
We have many students, work from home moms and retired men and women who are making extra cash,
We lead you by hand to earning a substantial income online!
Let Me Explain:
-No need to see, sell or ship products
-No website to deal with
-No need to recruit friends and family
-Very little start-up capital
-No advertising to pay for
-No skills required
-No need to try and sell people stuff
-No phone calls
-Very little time investment
-You can take surveys anywhere you have the internet
Once you join you will be given a username and password to our members area. The members area contains illustrated step by step tutorials guiding you through each step.
The members area also teaches you how you can simply keep submitting your surveys everyday to make a substantial income online.
Anyone can do it – It really is easy, you can simply signup for Online best survey accounts which we tell you then submit your surveys you provide and lastly watch your account as money adds up daily. These companies need people like you to take survey as it spreads word about their products helping them to generate sales. This is how they can pay you so much, they are splitting their profits with you. You will be paid via check, wire transfer or paypal.
This work is fully legal, 100,000 different companies will pay and provide the tools. They provide an online catalog of companies, organised into relevant categories
(health, money, employment etc).
Simply look for companies you would like to join according to how much they pay. You will never submit any form with survey that is objectional.
Again it takes just minutes to signup with each company, and it is 100% FREE. Our Top member is earning $600 – $1000 every day, why couldn't you?
3 Simple Steps
1. Sign Up For Our Exclusive Membership Today
2. Login to your account to access
3. And Start Making Money
Great Exciting Things You Can Participate In AND Get Paid For!
1. Shop and Eat and get paid up to $$$1,000 per Month
2. Get PAID to Drive your car $$$1000 to $3000 per month!
3. Get PAID to Preview new movie trailers.. WOW!
4. Get PAID to Travel! Earn $100's each month just for traveling! Wow!
Our members are making substantial incomes working just 30 minutes – 1 hour a day!
Just have a look at how easy and simple most of the surveys you are going to do..
Very Easy to Answer! wowwww!
Please keep in mind, We have over 100,000 working members, using a true system which can generate anyone a great income working from home for simply taking surveys.
What determines the amount I'm paid?
Our most dedicated members are earning $75 to $100 per hour. (Based on January 2010 figures), the more surveys you submit usually the more money you will make.
Top Paying Online Business
Learn more here:==>> [snip]
The amount each company pays varies from $75 – $100 per survey. This money will mount in your account every day!
Our members area also lets you know the companies making our members the most money.
Many members have told us that they are working just 20 minutes a day and earning over $300/day.
Once again it takes just 2 -3 minutes to complete, paying you $75.00 – $100.00!
Do I Qualify?
If you can complete our step by step instructions and have internet access you can work Now!
They currently support members from all over the world. Taking surveys is a proven money-maker, see our testimonials above!
Your partner in success,
Jocelyn Cradle ( Joce C.)
Top Single Mom Home Networker
Top 3 Survey Earner – Circle Distributors with 238 Personally Sponsored
—————
End of email spam message…