This page is often confused with our Winpopup page that covers Disabling the Messenger Service which is not the same as MSN Messenger.
How to Disable Microsoft MSN Messenger
Here is the best method I know of to Disable MSN Messenger:
Step 1) To Disable Messenger MSN from running go to the start menu and select RUN. In the window that appears type regedit (see example below)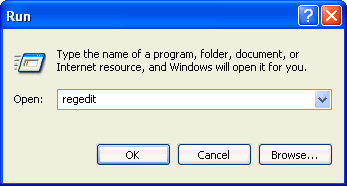 Step 2) The Registry editor will now have opened. Navigate to the following Key:
HKEY_LOCAL_MACHINE\Software\Policies\Microsoft
Now create a new key by selecting Edit from the main menu bar. Now select New then Key.
Name this new Key: Messenger
Step 3) Now select the newly created Messenger Key and create another new Key. Only this time we are going to name it: Client (The key should look like the example below…)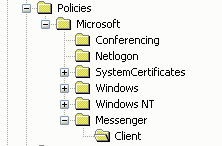 Step 4) Next we have to create a DWORD value. So Right Click the new Client Key and select New then DWORD.
Name the DWORD PreventRun (see example below.)

Step 5) Now we need to give it a Data Value of 1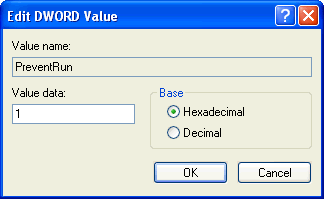 Step 6) Now restart Windows XP and you will have successfully Disabled Messenger MSN
IMPORTANT: These instructions on disabling MSN Messenger contain information about modifying the registry. Before you modify the registry, make sure to back it up and make sure that you understand how to restore the registry if a problem occurs.