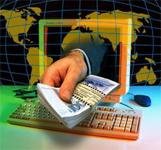 I received this email today from Nevada Manning at bosslerhaow7b@yahoo.com addressed to cray.lucinda@gmail.com using Yahoo mail to deliver the message. The fact it came from Yahoo, addressed to the incorrect name and asking that you respond to an entirely different account screams scam, one designed to obtain your personal information.
There may very well be a legitimate company called E.C.G. Inc, but it doesn't mean that this email came from them. In doing research, I could not find any company information regarding this offer which usually, a company looking for employees will have the same information posted on their job board.
This is what's called a "Two Tier Scam". Tier one is the identity theft scam disguised as a job offer to drop your defenses and submit personal information! That information is then evaluated to determine if you can be used to commit illegal activity and if so, Tier Two kicks in.
In Tier Two, you are told that you'll be shipping packages from home using Fedex, UPS and standard mail but what you are not told is that the contents, such as TV's and electronic equipment were purchased with stolen credit cards and your address will be the one that the police raid when they find out.
If you have received something similar, please leave a comment and help others from being scammed. Careful out there – here is the offer:
Greetings,

Please, have a look at the information about our company and a vacancy to be filled.

E.C.G. Inc firm seeks for for the individual to fill in the position of messenger.

The work itself has a remote basis an could be done part-time as an additional employment.

Our firm was founded by Warsaw School of Economics graduates and operates since 2004 with its central office in Warsaw, Poland.

E.C.G. inc provides a service of a middleman between merchants and clients parts of the world and offers an opportunity to take part in product sales.

All the facilities you need is a personal computer and internet access including printer/scanner to cooperate with us.

Right now we are hiring courier clerks in the US cities.

The duties will include tracking and receiving purchased packages, sending them out using the pre-paid materials our company provides.

Income is $60 for each parcel which is summed up in a total monthly salary and remunerated at the end of each working month ($1500 is a minimum guaranteed salary (does not depend on the amount of packages handled)).

The requirements are:
-18 years of age or above
-presence at designated address on a regular basis -availability of PC with internet access -day time contact phone number.

All the duties are from home but may also require visits to local USPS office/FedEx/UPS.

The working hours and working volume :
-up to 8 hours a week-
6-12 packages handled weekly.

Mostly all packages are not heavy or bulky and will not require the special storage place.

To avoid any illegal issues or activities all the packages are being shipped/re-shipped by the big services like FedEx, UPS and DHL who have the strongest security systems nowadays. You can also examine the contents of packages before re-shipping it to our client.

We would be glad to start the application process with you if you match our requirements.

Please, email us at : krystinaannand8@gmail.com