Below is information about the Hajia Turai Yar'Adua scam and what to expect. I received this email today which claims to be from the wife of a late Nigerian president who packed away 45 million dollars and is willing to give you 40% if you help her get it.
Of course, it's all a big scam, so don't fall for this! The email is below:
————–
Hello Dear,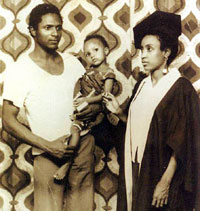 I am Hajia Turai Yar'Adua, the Wife of the Late President of Nigeria Umaru Musa Yar'Adua. I want you to please help me and invest the sum of ($45 Million USD) which my Husband deposited in a security firm in Oversea before he died recently. Note, the funds where deposited as security bonds worth ($45 Million USD) before he went to a hospital in Jeddah, Saudi Arabia in November 2009.
I will send to you all the necessary documents that will mandate you to claim the security deposit bonds, as the sole beneficiary of the security deposit bonds. Please if you are willing to assist me, kindly email me back so that we will proceed immediately. After all is been done, you will take 35% out from the total sum while 5% is been set aside for any expense.
I believe you must have heard about my Husband's death and this will not come to you as a surprise but please try and understand exactly what I am talking here. I look forward for your kind update. Please email me your willing to proceed. For security reasons contact me through my E-mail: (hajiatu@hotmail.com)
Healthy regards,
Hajia Turai Yar'Adua (Wife of the President)
For the Family.