Here is a scam, an old one, but this time they are send an email saying "Your Email ID Won (488,620.00 Euros) DOWNLOAD ATTACHMENT FOR DETAILS."
They then attach the communication in an email to avoid filters and prevent websites from displaying there information. I've included the image they sent me below plus the text of the image.
It's all a scam, so don't respond to this or you'll end up losing money and personal information!
——————
Microword Corporations:
Customer Service
Madrid-Espana
Reference Number MSFT-008-T43-HSX
Batch Number: MSFT-008-T-42-HST
Ticket Numbers: 1,5,7,9,12,15,19
Official Winning Notification
We are pleased to inform you of the released results of Sweepstakes Promotion organized by Micro Word Corporation, in conjunction with the Foundation of the promotion of software products and Jae promotions, held on 13 May 2010, in Madrid Spain.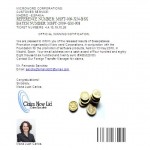 Your email address won a cash award of Four Hundred and Eighty Eight thousand six hundred and twenty euro ($620,173.14) dollars.
Contact our foreign transfer manager for claims.
Mr. Femando Sanchez
email: sanchezfernando03@ymail.com
Congratulations!!
Sincerely,
Maria Juan Carlos
Claim Now Ltd
Claims Specialists
————
Remember, this is a scam and you should not respond to it. If you received one like this, please leave a comment with a copy and I'll get it posted. It will help prevent others from becoming a victim!