Came across this cool free remote desktop application that allows you to control a pc from your iPhone, Droid or another computer called TeamViewer – best of all, it's free to those of us that do charity work (such as helping others without payment ;). If you're a business, they offer a one-time purchase price for long-term use without recurring billing for $749 – I thought the statement was odd, as it goes without saying for similar software…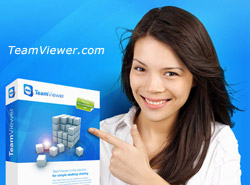 I installed this software and had it up and running and was able to remotely support a pc from by Droid within 15 minutes! You can choose to install the software or simply run it without installing files, perfect for one time use, etc.
This software also works great for presentations, training sessions, online meetings and more.
What's really nice about teamviewer is that it works through your firewall without you having to do anything special; that makes it especially nice when you have a client that isn't technology savvy :)
Also cool is that it works with Windows, Mac and Linux!
If you're looking to connect to any PC or server on the net without the hassles of long registration, limited software or time restraints, then teamviewer is for you!
I love it – works great for me!